Welcome to Elite Home Tutors
Elite Home Tutors is a small and friendly agency based in the North West of England covering such major cities as Manchester, Liverpool, Warrington, Chester.
We provide individual tuition in your own home at a time to suit you or your child. If you live in any of the above areas and are looking for a tutor, we can help you, with NO registration fee....more
---
We take children from the age of 6, (year 1 onwards).

All our tutors are fully qualified teachers or experienced graduates.
---
Are you a potential Home tutor? Contact us HERE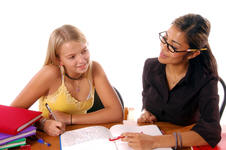 Why should I have a tutor?
To brush up on your skills in a certain subject - Improve understanding of a subject - Give your children an extra chance to shine - Improve confidence - Prepare for examinations
Whatever your requirements, private tuition is a helpful way to get everyone back on track or pass exams...find out more
We can offer tuition from primary levels ( Key Stage 1 and Key Stage 2 ) , 11 plus, SAT's and GCSE's and A Levels and in some cases degree level